Learn the proper way to lash, from beauty biz vet, Charity Rochelle'
Beginners classic lash training
What: Classic Lashing & Lash Fundamentals
Where: Blink Lash Studio Frederick MD
When: Sundays or Tuesdays 9 AM to 6 PM
Who: This class is perfect for you if you are a beginner looking to start your lash career or in need of a refresher
Intensive classic lashing technique training
Live model demonstration
Marketing, Pricing & Vendors list
Branding and Photography Tips
Starter Kit
Certificate of completion received day of class
We Teach Classic Lashing First. This is necessary because classic lashing is the core of learning proper lashing skills.
*Lash Application starts with an understanding of eye health and anatomy.
*Then you will learn the theory of hair and how it grows from a master cosmetologist and 19-year salon veteran.
*Adhesive 101: Next we talk about the lash adhesive, its chemistry, and how it works with lash extensions.
*We'll go over the most up-to-date dos and don'ts of healthy lashing including sanitation, proper lengths, and weighting, styling, tweezers, proper lash isolation, application, as well as how to create the perfect bond between the natural lash and lash extension. After Classic Lash Training we ask that you go home and practice classic lashing on everyone you know. (We recommend four models a week for 90 days) Then you may book Russian Volume Training with CharityRochelle.
At the time of booking a pdf of your manual sent by email. So that you can start studying!
This course is 9 hours and costs $900
A 50% non-refundable deposit is due to secure your date. You may reschedule your training 1 time up to 7 days in advance. Email us today to secure your spot!
TAKE YOUR ARTISTRY TO A WHOLE NEW LEVEL
BLINK MASTER VOLUME TRAINING
What: Russian volume ultimate coverage and retention
Where: Blink Lash Studio Frederick MD
When: Sundays or Tuesdays 9 AM to 1 PM
THIS COURSE IS IDEAL FOR YOU IF:
You are already certified and Proficient in classic lashing.
You've taken other trainings and are still having trouble 
You are struggling with retention and adhesive issues 
You need help with mapping, correction, and symmetry 
You want to create more consistent, symmetrical & narrow fans.
You want to learn Russian Volume and different fan-making techniques.
You want to improve your overall coverage to achieve maximum retention of 3-4 weeks.
You want to learn taping techniques to master inner and outer corner attachment and layers.
You want to master your application direction & angle.
You want to learn how to make safe volume fans using 0.7 and .05 extensions.
You want to create dense and dark lash sets that won't cause natural lash damage.
You want to improve on any areas that you might be struggling with currently.
You want to elevate your lash artistry to raise your prices 
 need tips for gaining and retaining clients 
What you will learn:
How to create amazing, symmetrical perfectly weighted Russian Volume Fans. 
Four different fanning techniques 
Crystalizing vs Wrapping 
How to use Proper lengths as to not do damage 
Eye shapes and how to manipulate/correct imperfections 
The perfect client Consultation 
Proper record-keeping 
Product knowledge, Lash types, curls, thicknesses & lengths
Lash fan application technique
Isolation technique
Retention solutions 
Legal responsibilities, Professional ethics
THIS COURSE INCLUDES:
Map Worksheets
Certificate
Lunch
Kit with 
+ Set of Russian standard volume tweezers
+ 2 mixed trays: .07 & 0r .05 or .03
+ 5 ml .5 dry time adhesive
+ 50 cute mascara wands
+ Mapping cards
A mentor for life! ;
WHAT TO BRING
As an experienced lash artist we know that you love and trust the products that you already work with – so bring what you love. This class will be tailored to your needs.
This course is 7 hours and costs $800
A 50% non-refundable deposit is due to secure your date. Email us today to secure your spot! 
LEARN FROM CHARITY ROCHELLE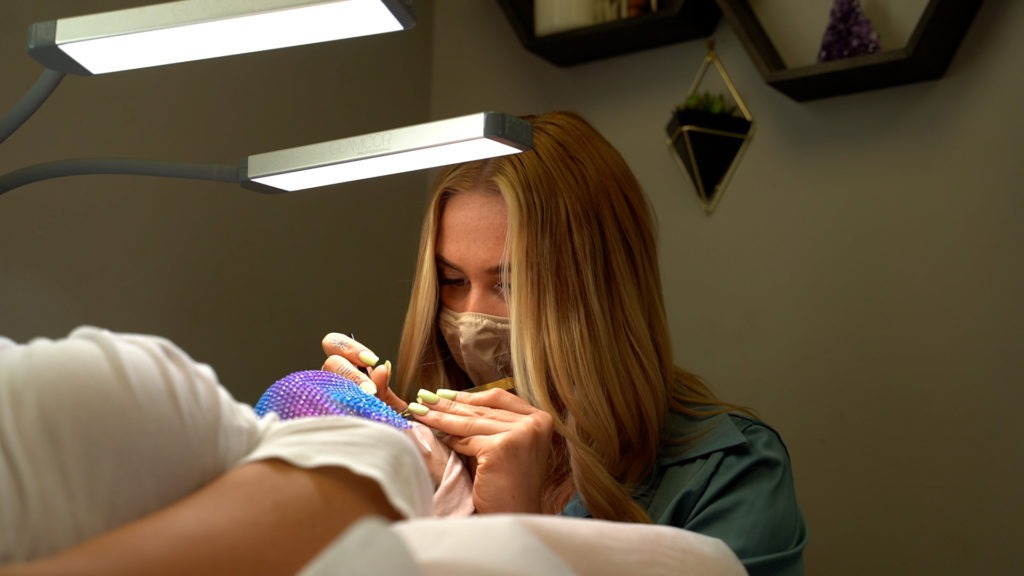 Wanna pick my brain? Ask me anything?
Are you already trained but need some pointers? Want to watch me lash?
Need help with gaining clients, running a salon, business or tax or pay structure questions or even lash retention?
Book a mentor sesh! 150$ per hour, life time support! 
Available in-person or virtual!